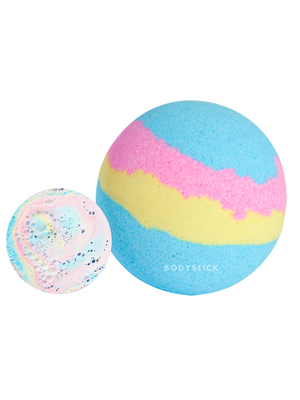 Of pastel blue, pink and yellow - reminiscent of the nostalgic paddlepop ice cream we all grew up with. Swirl Paddlepop Galaxy's bath art around to your heart's content while taking a relaxing soak. An all-time BODYSLICK favorite!
SCENT: Bubblegum
NET WEIGHT: ±220g / 7.7oz

MADE IN: Singapore
INGREDIENTS FROM: Predominantly USA, KR, SG, MY

BENEFITS:
Softens skin

Shea Butter and Sweet Almond Oil moisturizes skin without leaving you feeling oily at all
Bath water feels silky and non-oily
KEY INGREDIENTS

HOW TO STORE: Leave bath bomb in wrapper till it's tub time. Keep away from sunlight in a cool, dry environment. Best stored in an air-tight container.
SHELF LIFE: 6 months | Free of preservatives