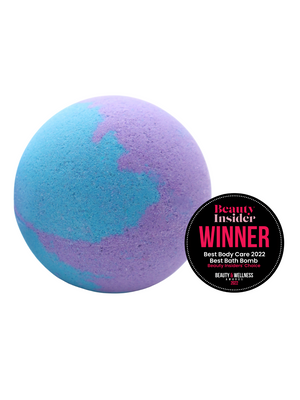 It's so therapeutic watching Calm Balm fizz out in the bath, spreading its purple and blue foam to create an oasis of calm for you to soak your cares away.

TYPE: Bath Bomb
SCENT: Lavender & Mint
We made sure we perfected this blend . It's still one of our favorite blends to make to this day.
NET WEIGHT: ±220g / 7.7oz

MADE IN: Singapore
INGREDIENTS FROM: USA, KR, SG, MY
BENEFITS:
Softens skin

Shea Butter and Sweet Almond Oil moisturizes skin without leaving you feeling oily at all
Bath water feels silky and non-oily
KEY INGREDIENTS

HOW TO STORE: Leave bath bomb in wrapper till it's tub time. Keep away from sunlight in a cool, dry environment. Best stored in an air-tight container.
SHELF LIFE: 6 months | Free of preservatives